Collection:
Customer Reviews
Customer Reviews
I bought this mask to wear on a commercial flight. I'll admit — I wore a N-95 mask through security and to board the plane. Once I was seated, I put on the Narwall. I thought I'd feel self-conscious, but I only felt safe. AND, it was much more comfortable than the N-95 mask that I had been wearing. I could breathe well, and could see well. I both read a book and watched a movie with no problem. This mask gives me a level of security that I didn't have before. I can now go visit my 85 year old mother and feel safe. Thanks, Narwall, for the wonderful invention!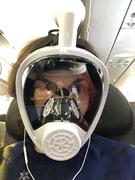 While I am still waiting to use it in an extended session, it is comfortable to wear. I wear glasses and hearing aids in both ears and face masks are problematic for me at times. The Narwall mask fits well and I don't worry about my hearing aids accidentally popping off, as has happened with regular face masks. I work on an overseas military base, and we aren't yet allowed to ride trains or buses to go places (and some places are available to visit, and then off limits due to current local conditions). When the time comes, I will definitely be using the Narwall mask for train rides, especially, as they can get crowded and you are on them for several hours. Also hope to be able to wear it when the time comes that I can fly to other locations and not have to quarantine or be tested.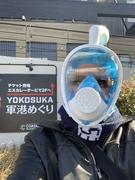 It was embarrassing to wear the mask at first but the reward of keeping my family, myself and my community healthy and the peace of mind that came with it makes it all worth it. After that first wear you get used to it and you'll find that people are genuinely interested in the mask. Many of the comments I received after posting on insta were of people being grateful I was taking these measures to protect myself and others. Another friends comment was about how a family member of hers passed away from Covid-19. Comments like these put things quickly back into perspective and the way I look in the mask becomes the least of my concerns. Oh and wearing this mask feels so liberating!!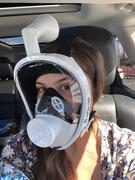 This second purchase is for my wife. She tried mine and couldn't believe how easy it was to wear and breathe through. With her MS and lymphoma treatments keeping her immune system down this NARWALL is just what we both need to protect us. Thank You for a great safe product. We both highly recommend this mask.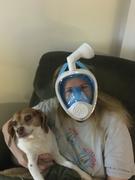 02 Mar 2021
Gaurang K.

United States
Can't use mask in United
Can't use mask in United
This mask is the one thing that has helped me feel safer getting groceries and supplies and working on my severe anxiety about being in busy locations. My household has been under a tight lockdown since the pandemic begin as I was also taking care of one of my parents who was battling advanced cancer. After they fought hard but tragically lost that battle a few months back, the experience continued to have lasting effects on my fears of being near others outside of my immediate family. This mask is my tool to slowly and safely get some exposure therapy so I can at least get out of the house for a bit (especially in Midwest deep winter) and not shutter or straight up leave a store every time I see somebody not wearing their cloth mask properly or worse, no mask. I've certainly gotten some interesting looks and a couple teen girls snickering but Every comment I have gotten has been either sheer polite inquisitiveness or a very enthusiastic complement! Thank you so much for working so hard to develop some thing so safe and easy to put on and takeoff! My only mild disappointments with it is that it can be very hard to have a conversation with someone while wearing it unless it very quiet. In a grocery store, I have to be careful to really project and annunciate slowly. And I wish the bottom didn't dig into my neck when I talk for more than a couple sentences or have look downward. It's not unbearable but if I am having a 15 minute conversation my neck gets raw. Still doesn't mean that it's not the best thing to go to stores, hospital, and other indoor locations!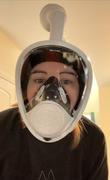 The product is well built with an excellent design. It will fit most everybody but very larger people. Customer service is top notch and buyers should try this as a step above approach for combatting the Covid virus.
I have worn it twice. I expected to get a lot of insulting remarks, but only three people, all women, commented on it, and they all said "I like your mask". From my point of view the only problem is that you cannot wear eye glasses with it and if your nose itches you have a problem. You should also wear it at home for a period of time to make sure the straps are properly adjusted. It has the advantage of covering mouth and nose without slipping down, and your eyes. I have logged about two hours total wearing time and I am glad I got it.
We received our Narwall masks about a month ago and have been wearing them every time we need to run an errand. As an older couple these masks provide a degree of protection that we really appreciate. We take no unnecessary risks, but we do need to make the occasional trip to the grocery store or Costco. Considering how generally careful we are, we realize that we would probably be safe using cloth masks for our limited journeys out into the world. Our Narwall masks, however, move us from "probably" column to and "almost certainly" safe column, and that makes all the difference in our peace of mind. At our age it is worth it to us to take every precaution we can to avoid contracting Covid 19. We are so grateful that the Narwall mask was developed. We have contacted the company a couple of times with a request, or for further information, and have been met with the kindest and most timely responses anyone could hope for. Thank you, Alex!
I have bought 11 masks so far for family members and one friend, ages 30 to 92. Everyone loves them because they provide protection that is not possible with other types of masks. I would rank this as the top of the line among Covid protective facial gear. Besides being light-weight and comfortable, an extra bonus is that it actually filters Washington, DC air. If ever the Covid pandemic finishes, I expect to use the Narwall for bad pollen or polution days, too. The picture attached here was included in our annual Christmas letter. Now we have people from around the globe asking us about where to get the masks. Lastly, I recommend that Narwall follow up with its customers to see if anyone who faithfully wears a Narwall, and whose household members do the same, has contracted Covid post-Narwall wearing. Recommend that you ask "From who weeks after you started wearing the Narwall mask until now, have you tested positive for Covid?" I hypothesize that the answer is a resounding 100% "NO."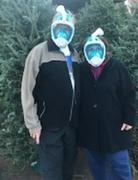 This is a great mask that gives me comfort knowing that I am protected in higher risk environments. The seal fit of the mask is great because you know the the only air coming in is through the filtered intake tube. While visiting with my doctor I did have difficulty having a longer conversation because of how the mask fits but in fairness it was the first time speaking beyond basic communication in a grocery store. At the hospital outpatient clinic I received many questions and positive responses because they knew I was protecting everyone around me and myself, modeling best practices short of my own oxygen supply. At the local grocery store I got more looks and fewer inquiries, many of these people seem inconvenienced to wear a basic mask and keep it above their nose. Perhaps they thought I was being over the top but as someone that received a kidney transplant ten years ago, I am able to perform necessary errands while staying as safe as I can. It does take time to get used to wearing it because if the tight seal on the face but it gets easier with each use. I have to fly I a few weeks for work and the Narwall mask will ease my worries of becoming infected. Thank you Alex for creating this product.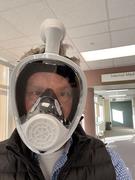 I am terrified of Covid and haven't been out. (I have to say I'm getting used to grocery delivery!) We finally went into Trader Joe's and I felt totally safe from Covid with my mask. As for sizing, my measurements were accurate and I measured for a "small". However, I have chubby cheeks and felt like I was suffocating. I now have a large and it's perfect! Hubby measured for a large and his is perfect. We are extremely happy with our masks. On the side where there is NARWHALL, I used a sharpie and added".com". so anyone who sees us can go to the website.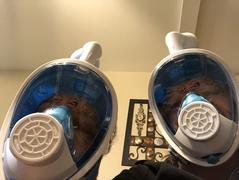 Simply the most comfortable mask I've found, and apparently darn near the ultimate in filtration. I'm close to ancient, un-retired to work for a specialty pharmacy, and visit at least 4 hospitals daily. Northern New England. Winter. Temps in the single digits F. The mask simply does not fog, transitioning from a warm car to the outdoors, with wind, snow, etc. Across the parking lot into the hospital. The mask does not fog! The flow through design means little to no warm exhalations accumulating, fresh air each inhalation. Okay, the visuals are a bit much, prompting reactions from curiosity (from medical pro's!) to laughter (my wife, amongst others). But the peace of mind knowing that both the air I'm taking in and the air I'm exhaling are filtered down to 0.1 micron particulates, that I'm neither exposed or exposing, makes the cost of no serious concern. Filters are reasonable, minimize haz-mat waste, easy to change. Do pay attention to the 'how to use' page - some things, like the moveable 'constrictor' on the elastics are not obvious, but simple to use/understand having Read The Fact-filled Manual (yeah, RTFM!), and do make a difference in practice. Whole heartedly endorsing this product, FWTW. Stay safe, be well.
I wear my Narwall every time I leave the house. It is so comfortable that I hardly know that I'm wearing it. I have no breathing problems with the Narwall mask. I made some little business cards with the Narwall web site URL and I carry them everywhere I go because so many people ask me about my mask. I tell them to feel free to take a photograph of me and my wife in our masks and I give them one of the cards and encourage them to visit the web site to read in detail all of the information available on that site. Unless I felt like I would give the Narwall mask a 15 start rating on a 10 star scale I would not do this. This is a fantastic invention of the very highest quality and I recommend it to everyone who sees it and asks about it.
It's pretty dang cool ya'll. I look ridiculous but I give no poops- all I care about is staying safe. I was convinced by the data these guys display right on their website about filtration. Well done guys
Dear Reader, This is a pretty awesome invention, especially that it was tested & proven to be effective, which if you understand about Microscopic Organisms, Viruses and how they travel? Having a full face seal, is the ideal type of protection to have in this specific situation, which is what this product provides. Everything about this product was thought through. From the plastic, heavy duty zip lock style bag that it comes in, which is perfect for a decontamination bag, to store your mask in, until you get to a safe, clean area. Where you have some wipes to Decon the outside of the mask, & inside of the bag. It came with little hand out cards which explain the function, and legitimacy of the Mask. Which were immediately needed when I first wore it out, & walked into every store. Which here is where I state my cons: Because of the design of the mask looking so much like a modern snorkel mask? I'm afraid some of us bold enough to wear these, are wrongly characterized as "Idiots" who probably modified an actual Snorkel Mask, to mock the mask mandate. But what ever their train of thought is? The people around me seem to get uncomfortable around me, for wearing such a fully enclosed mask. But if you don't mind the constant stopping to explain what, and why? Hand out a card, & them giving it back to you? Which I've learned works better if you just ask them to take a pic of the card while you hold it for them, then they could read it off the picture. Lastly? I noticed there was a little filter on the inside of the mask, right around my right nostril, that when I take a very deep breath? It kinda starts flapping up into my nose, which REALLY tickles. Yeah it's pretty funny, but definitely not a good thing to happen when you're trying to maintain the seal. So if I asked the developer for any improvements, it would be a different vent on top, that looks less like a snorkel, and move that filter a little further away from the face. Besides that? Very comfortable, and a lot lighter than wearing a traditional Military Style Protective Mask with a canister. Hope this helps, & I hope this provides you & your loved ones the protection you need, to stay safe. Sincerely, Happy Customer!
Collection:
The Narwall Mask
The Narwall Mask
Regular price

Sale price

$85.00
Product Details
Narwall Mask does more than other masks to keep you safe:

Filters made in the USA with material tested to 99.99% VFE provide fantastic airflow.
Secure, airtight seal made from FDA food grade silicone. Originally designed for snorkeling.

Durable polycarbonate face shield protects your eyes and prevents you from touching your face.
One-way airflow (inhale comes in on top, exhale goes out in front) keeps every breath fresh, cool, and clean.

No exhaust valve or vent, so others are protected too.
Still have questions? Our FAQ goes into great detail, or you are welcome to contact us!
Shipping
Priority Shipping (1-3 business days) is FREE for US orders over $120.
Orders received by 3pm local time typically ship the same business day; orders placed later ship the next business day.
Be aware that Next Day orders must be placed before 3pm Eastern M-F to arrive the next day.
For international orders, note that duties may be assessed prior to delivery, and are to be paid by the customer.
Narwall Return Policy
Unopened Narwall Masks can be returned within 30 days of purchase; just reach out to support@narwallmask.com and we'll email you a free shipping label.
Because we do not re-sell masks that have been worn, we may not be able to offer full refunds for opened items. That said, we'll always do our best to take care of you – please reach out if you're not satisfied.